A trio of painful experiences—moving to a new city, experiencing financial hardship, and grieving the loss of an important relationship—had taken its toll. I wasn't simply stressed or feeling blue. I was pretty much immobilized by depression.
Some days I could barely put one foot in front of the other.
Over time, I found my way out of the mire. Counseling, exercise, prayer, friends, and time all contributed to my healing.
But when my circumstances and emotions were truly at their worst, there was one thing I could turn to daily that made an immediate difference. Alright, I'm exaggerating. It wasn't immediate. Sometimes it took a whole three to five minutes for the suffocating heaviness of depression to begin to draw back, allowing me to take small breaths of hope and even joy.
That thing I turned to every day was a simple exercise in expressing gratitude.
Science Says Gratitude is Good for Your Body, Mind, Emotions, and Relationships
I'll tell you what I did in a moment. But first let me say that science and research back me up. Studies show that when we are grateful, we experience more energy, less anxiety, and more restful sleep. It's good for our health, our happiness, our relationships, even our longevity. And did I mention that grateful people are more likely to have better marriages?
Finally—and this has been so very true for me—finding ways to say "I'm grateful" has been shown to reduce symptoms of depression (some studies say by as much as 30 to 35 percent).
All these benefits come from gratitude in general. How much more precious and impactful it can be when we express our heartfelt praise and thanksgiving to a heavenly Father who is the giver of every good and perfect gift.
What Gratitude Did for Me
Let me tell you what happened to me when I forced myself to praise and thank God in some of the darkest days of my life.
And I really did have to force myself to do this.
Typically, this is how it went down.
I'd usually be driving in the car, heading to work or running an errand or picking up a kid from school, and I'd be feeling so fatigued and numb I could barely point the car in the right direction. Heavy sadness was my constant companion. Sorrow and exhaustion were bottomless dark pools in my spirit.
And, without feeling grateful in the least, I would look out my front windshield and force myself to say the lifeless words, "Lord, thank you for the clouds and the sky."
(I don't know why I always started with the clouds and the sky, but I did.)
Then I would sigh with the tremendous effort of it all and say the still-empty words, "And thank you for the mountains."
I'd keep going.
"And thank you for my friends. I actually do have good friends, Lord. Some people don't. So I guess I should be thankful for that. And thank you for the home that you've provided for us. And thank you for my girls—"
Here's where my spirit would begin to stir.
"—you've given me such wonderful daughters, Lord, and I am so blessed and grateful—"
About suddenly the words would be flowing freely in a life-giving river of genuine praise.
"—And you know what? You've never let us down. We've never been abandoned by You. You are so good. Your love for us really is without end. Oh Lord, thank You for being so mighty and powerful and yet so unfailing in Your tender care for us!"
At that point I'd have tears in my eyes and the stirrings of hope and joy—actual hope and joy!—in my soul.
Did those feelings last forever? Nope. But each time gratitude rekindled my hope and joy for even a few hours, I grew stronger in the belief that with God's help, there was a path out of personal darkness.
Gratitude never failed to evoke these feelings for me. Not once. The act of giving thanks—even when I didn't feel anything—brought life to my spirit every single time.
The Bible Says Gratitude is God's Will for You
No wonder the Bible makes such a big deal about gratitude. God's Word instructs us to give praise and thanksgiving to God for everything (Eph. 5:20), in all circumstances (1 Thess. 5:18), with all of our hearts (Psalm 9:1), with our words, (Psalm 9:1), with singing and with joy (Psalm 95:1-3).
The Bible also says that giving thanks is, quite frankly, God's will for you. (1 Thess 5:18).
Gratitude is God's will for me. It's His will for you, too. And when we are obedient—even when we don't feel grateful—something shifts. Does something shift in heaven? I think so. On earth? I believe that, too. In you and me? Absolutely!
Our thoughts often turn to gratefulness in the fall as we celebrate Thanksgiving with friends and family. But whatever the time of year, whatever the circumstances, in everything, for everything, say it. Say the words. Say lots of grateful words. If you don't know where to begin, you can try what I did by starting with thanking God for the clouds and going from there.
Your spirit will respond. God will respond. Something will shift. And in that movement, hope and joy will be yours to glimpse and, eventually, to embrace.
■
What do you think about the idea of gratitude being an action instead of an emotion? Do you think something as simple as thanking God aloud for good things in your life can impact your feelings? Is gratitude a daily habit in your life? If not, what are some ways you can remind yourself to express gratitude—to God, and even to other people—on a more regular basis? Share your thoughts in the comments section below.
Would you like to join with us in giving people the opportunity to be transformed by Christ? Partner with Biblica today.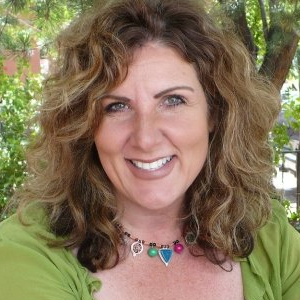 Latest posts by Karen Scalf Bouchard
(see all)